U.S. National Competitive Skaters –
About the Team
The novice team is currently our most successful team, winning the Preliminary and Intermediate National tiles for the past 2 years. This year we performed our free skate to the "Haunted Mansion," where we also won the best Props/Scenery and costumes….thanks to an amazing team of parents!
This will be the first season this team competes at the Novice level, a National Qualifying level, so a real step up for this young team of skaters.
2016 US Nationals Pelham, AL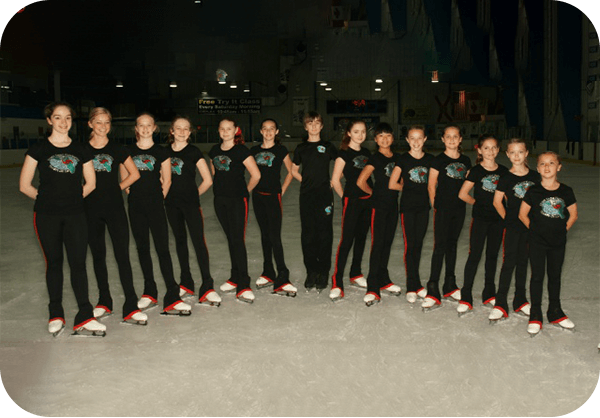 2015 US Nationals – Hyannis MA.
Novice Team finished sixth out of seventeen teams. Performing their EFX – Explore the Imagination – a plot involving the celebration of the human mind. The EFX Master, in charge of EFX, invites the audience to relive their childhood innocence and wonder by taking them on a journey throughout this world of extravaganza! A world where "anything is possible" thanks to the imagination!
2014 US Nationals – Dearborn, MI.
After a strong choreographic exercise, the Novice team, in a fourth-place spot, took the ice with their "A Day Trip to the Magic Kingdom" free skate and did the Iceplex proud, with clever effects and a fun storyline, including Mickey and Minnie magically appearing at the end! They finished in sixth place out of thirteen teams, so a great result for this team, which included many new skaters from the Iceplex Learn to Skate program this season.
2013 US Nationals – Troy, OH.
Consisting of twenty skaters, many of these girls are new to competitive skating, let alone a national event! They finished a creditable fourth place with their entertaining Jungle Jamboree free skate routine and were all honored to receive the pewter medal. They are all working hard to improve this placement for next year, which could give them a chance to qualify for the Nations Cup (World Theatre Championships) held in France in April 2015.
2011 Novice Team
Nationals Dress Rehearsal
2012 Novice Team
Nationals Free Skate
2012 Novice Team
Nationals CE